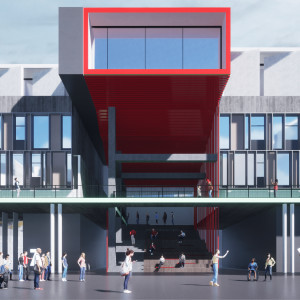 Explore an overseas teaching experience in Muscat, Oman's port capital, beautifully seated on the Gulf of Oman, surrounded by mountains and desert. Royal Grammar School Guildford Muscat (RGSG Muscat) opens its doors in September 2023 to offer a challenging, holistic British curriculum to the local and international communities in Oman. The school's unique elements nurture each student's individual passions and talents, allowing them to realise their aspirations and dreams, and to become productive global citizens who actively contribute to the communities where they live, study and work. RGSG Muscat aims to be the school of choice for compassionate and ethical leaders of tomorrow, who will act for collective wellbeing and sustainable development.
Royal Grammar School (RGS) is proud to bring over 500 years of academic excellence to its international school community, by providing an outstanding British curriculum education based upon traditional values of decency and respect, supported by exceptional pastoral care and a wide range of extra-curricular opportunities. The original Royal Grammar School Guildford was built in 1509 in the historic village of Guildford, England.
In 2016, RGS took the decision to share its expertise on the international stage and established a thriving international school in Qatar. New world-leading school facilities in Dubai and China are now firmly established in the local communities. The link among all RGS' overseas schools is the desire to bring its vision of education to a wider audience. All of its overseas schools share the RGS Guildford ethos, blending the best of RGS with the best of local culture.

Overseas teachers join the celebration of opening RGSG Muscat as a member of a powerful, innovative, and close-knit network of international schools affiliated with the prestigious Sama Education Company, which has many years of history and experience in international education in Kuwait. The new school will benefit from the expertise of the other Sama Schools in Kuwait, RGSG schools in Dubai and Doha, and the Sama partner school, Aldenham Prep, in Riyadh.
The day, bilingual school is located in Al Khoud, a thriving and attractive suburban area in Al Seeb, close to Muscat International Airport, and to The Wave, a stunning, new residential, shopping, and entertainment complex along the coast. RSG Muscat's facilities are first class, and its plans for the future are ambitious.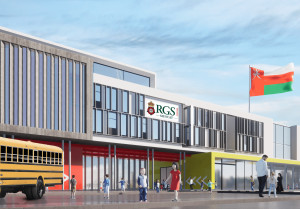 Pending accreditation through the New England Association of Schools and Colleges and the Council of British International Schools, RGSG Muscat uses inquiry-based learning to deliver the UK curriculum, from Early Years to A Levels, followed by the International and General Certificates for Secondary Education. At present, 198 students in Nursery through Grade 3 are pre-enrolled, half of whom are Omani, the other half representing 20 nations. The teaching staff of 19 includes four from Oman.
RGSG Muscat hires singles and teaching couples, including new-certified candidates and experienced teachers lacking certification. The school will consider couples with a non-teaching partner and interns. Candidates need not hold an academic degree in the subject they will be teaching. As per government regulations, those up to the age of 60 may obtain a work visa.
The benefits package includes a non-taxed salary and allowances for moving, settling in, utilities, and annual airfare for overseas teachers and their dependents. The school provides either housing or a monthly housing allowance. A retirement plan comes in the form of an End-of-Service gratuity of 15 days' pay for each of the first three years and one-month basic salary for each year of service thereafter. Tuition is free for up to two dependents. Worldwide health insurance—except for the U.S.—is fully paid and includes dental.
RGSG invests heavily in its overseas teachers and believes that quality professional learning and collaborative planning for staff has a positive impact on student learning. International teachers are provided with opportunities to explore their passions and interests, to co-create the best learning opportunities for their students, and to be the best educators they can be. The benefits package amounts to some savings or the chance for a family of four to live on one salary. There are also local employment opportunities for non-teaching partners.
To gain access to Royal Grammar School Guildford, Muscat's full profile on the Search Associates database, including a list of any vacancies, candidates can apply for membership by clicking here. Candidates already registered can easily access the school profile directly through their dashboards.
Please note: The information presented about this school was valid on the date published. This information may change, and the most up-to-date information can be found on the school profile.